SURGE PROTECTORS
SURGE PROTECTORS is a shapeshifting robot defenders playset for the PARAGON system from the AGON roleplaying game. A copy of AGON is required to play. For more on the PARAGON system, including how to publish your own playsets, visit AGON-RPG.com.
It is 1984 and the Earth is under attack from a silent invader.
EMPERIONS, mechanoids from the MetalWarp dimension, use their Gravimetric Beacons to launch INCURSIONS into our reality. Emulating our technology they hide among us, slowly siphoning Earth's natural resources to fuel their conquest of MetalWarp and fulfill an ancient prophecy of destruction, THE SURGE.
Humanity as we know it would perish if not for their own champions—rogue Metalwarp defenders who have pledged to protect the earth from INCURSIONS by their own kin—the SURGE PROTECTORS!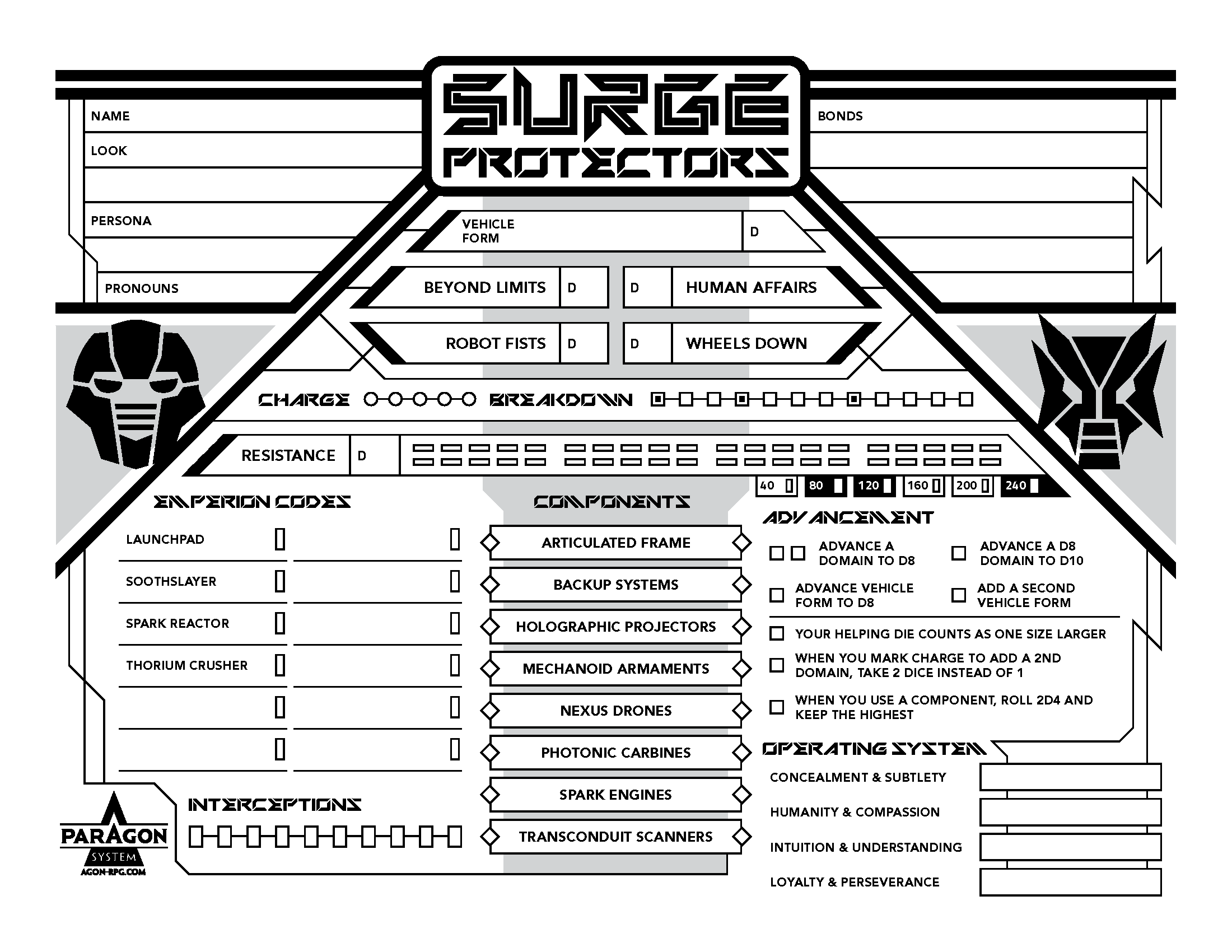 SURGE PROTECTORS adapts the fast and flexible PARAGON system to a world of shapechanging robots from your favorite Saturday morning cartoons. Inspired by Transformers, GoBots, The Iron Giant, and the Borg from Star Trek franchises. Pick your vehicle form, add your components, and within minutes you'll be ready to fate THE WIRE EMPIRE!

For discussions about SURGE PROTECTORS, AGON, and other PARAGON system games, visit the forum.
Download
Click download now to get access to the following files:
Surge_Protectors_Playset_v1.2.zip
1 MB
Comments
Log in with itch.io to leave a comment.
Is there a suggestion for what to replace Lineage with?
Huh, good questions. I'd suggest combining things from these two lists:
Spark
Surge
Lighting
Plasma
Circuit
Threshold
and
Champion
Paragon
Defender
Shield
Conductor
Bastion
That character sheet is awesome!